Recent Releases
L
ook for our newest books!
Package Includes book, DVD, & CD
Wiley July, 2016
THE PACKAGE:
*The book has 20 chapters, each illustrating a core principle of meditation. Included are clear instructions for evidence based yoga, compassion, and gratitude (focus meditations), mindfulness (open-focus meditation), and Zen and Taoist (no-focus) meditations. And applications have protocols & techniques, clearly presented for many psychological problems that can be integrated into most forms of psychotherapy. Learn how and when to use the best form of meditation to suit the individuality of each client, situation, and problem.
*The DVD begins with an inspiring invitation to innovative perspectives for healing. You will get clear instructions for how to do the different forms of meditation and integrate them into therapy. And enjoy a fascinating explanation of the neuroscience of meditation, showing why and how these methods are so helpful.
*THe CD can be given your clients or use between session, or used yourself to guide in meditation. These audios make it easy to learn and sustain a meditative path.
Science informed, these meditative techniques can improve your outcomes!

The Yoga and Mindfulness Therapy Workbook
Format: Book (Soft Cover)
Details: 175 pages
Author: C ALEXANDER SIMPKINS, PH.D. & ANNELLEN SIMPKINS, PHD
Publisher: PESI Publishing & Media
Copyright: 2014
Product Code: PUB082205
Price: $29.99 USD

Bringing together philosophy and science with hands-on exercises, journaling, and charts, this practical workbook by psychologists and best-selling authors C. Alexander Simpkins, Ph.D., and Annellen M. Simpkins, Ph.D., is organized to include:

*The tools to get you started: preliminaries, quick tips, neuroscience and efficacy research

*Clear instructions to guide you in the practices of yoga and mindfulness

*Application of the practice to anxiety, stress, depression, trauma and substance abuse

*An appendix created especially for the clinician answers questions about how and when to introduce the techniques, ways to adapt to your office, and special ways to address children and seniors
"The Simpkins have unified three areas that have rarely, if ever, been pulled together: yoga (not just the body moves, but the deeper psychological, emotional and spiritual aspects as well), mindfulness practices and therapeutic methods…filled with exercises, tips and inspiring stories."
- Bill O'Hanlon, featured Oprah guest and author of Out of the Blue: Six Non-Medication Ways to Relieve Depression

"The Yoga and Mindfulness Therapy Workbook is much more than a "workbook." It is also a "sourcebook," taking its readers into the philosophical foundations of yoga and mindfulness and forward into their neuroscience and psycho-therapeutic applications. The exercises are use-friendly, and their health benefits are documented and explained. The chapters on yogic breathing, cognitive reframing, and self-regulation of attention are practical and articulate. The Drs. Simpkins have written a magnificent volume that attests to their authority as well as their decades of clinical practice.
--Stanley Krippner, PhD., co-author of Personal Mythology and co-editor of Extraordinary Dreams

"The Yoga and Mindfulness Therapy Workbook offers a treasure trove of resources and practical exercises that are perfect for anyone wanting a unified mind-body approach to finding greater emotional focus, stability, balance, and ease in life. The timeless truths offered of yoga and mindfulness are seamlessly blended with modern brain science and research to provide solid evidence for why these practices can overcome 21st century stress, anxiety, and depression. The compellling real-life stories throughout the book illustrate that change really is possible ! Most importantly, the expertly detailed exercises and many guided illustrations will have you feeling that authors Alex and Annellen Simpkins are right beside you, sharing their years of experience and wisdom, as you step on this path to greater healing and wholeness."
Donald Altman, M.A., LPC, author The Mindfulness Toolbox, One-Minute Mindfulness, and the Mindfulness Code.
The Tao of Bipolar:
Using Meditation and Mindfulness to Find Balance and Peace

New Harbinger
Softcover
ISBN: 9781608822928
Release Date: April 1, 2013
192 pages
$16.95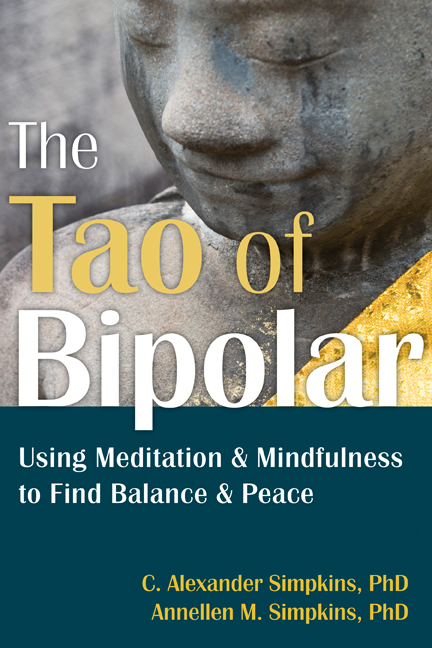 Discover your calm, balanced center within
Learn how meditation changes your brain for the better
Practice meditation, breathing exercises, and evidence-based mindfulness
Foster your creativity
Improve your relationships
Many people with bipolar disorder lead productive and happy lives, and you can too. If you are bipolar, you may face certain psychological challenges like mood imbalances, periods of severe depression, and manic episodes. If you would like to supplement your medical treatment to help you better manage your symptoms and find your personal sense of balance, this is your guide.
Tao, a Chinese word meaning "the way," is a metaphysical concept for understanding the universe as a circular flow of energy. Drawing on a combination of ancient wisdeom, psychology, and neuroscience, this book will help you balance your emotions and reconnect with the serence center within.
TABLE OF CONTENTS:
Introduction
Part I: Fundamental Principles and Facts
Chapter 1: Looking Through the Lens of Tao
Chapter 2: All About Bipolar Disorder
Chapter 3: How Meditation Can Change Your Brain
Part II: Learning Meditation
Chapter 4: Warming up to Meditation
Chapter 5: Focus on Breathing: The Gateway to Moods
Chapter 6: Open Focus: Developing Mindful Awareness
Chapter 7: No Focus: Clearing Your Mind
Part III: Easing Your Moods, Fulfilling Your Talents
Chapter 8: The Way Out of Stress
Chapter 9: Moderate Your Depression
Chapter 10: Harmonize Your Mania
Chapter 11: Balance Your Relationships Chapter
12: Nurture Your Potential
Recommended Reading
References
ADVANCED ACCLAIM FOR THE TAO OF BIPOLAR
"Annellen and Alex Simpkins have produced another great book that represents their lifelong commitment to helping people using unique resources...This step-by-step guide of systematic meditation techniques is designed for people diagnosed with bipolar disorder. The reader learns to enter into a different mental state that permits both relaxation and alertness, where once there was only mania or despair."
--Michele Ritterman, PhD author of The Tao of a Woman and Using Hypnosis in Family Therapy
"The deep message the conveys is: Nurture your potential by committing yourself to doing meditations. Find healthy daily routines of waking and sleeping, balance your moods to harmonize your relationships, and become what you want to become, trusting in the power of both Tao and nature...Even though the book is mainly directed to persons with bipolar disorder, it is also helpful for any therapist. The book nurtures the mind, body, and spirit of every reader, satisfies the need for sound knowledge, and gives the pleasure of reading a well-written book enriched by metaphors and cases."
--Consuelo Casula, psychologist, psychotherapist, and the president-elect of the Europeacn Society of Hypnosis
"Throughout this helpful, holistic, clear, and cogent book the experienced authors skillfully depict both the bipolar condition and the many therapeutic ways its symptoms may be alleviated. Compassionately reassuring the sufferer, the Simpkins encourage an attitude of non-judgmental awareness accomplished by meditation and breathing exercises to follow each day. ..This book will be of great help to any who read it and apply it to their lives."
--Tasha Halpert, author of Heartwings: Love Notes for a Joyous Life
The Simpkins have written a wonderful book. It begins with a solid foundation of ancient Eastern phiolosophy integrated with modern Western science and a clear description of bipolar disorder. The benefits of a variety of meditations are described and clear guidelines are offered to match these with the individual symptoms that different people experience. Simple, easy-to-follow exercises are offered throughout the book so each reader can experience their own process, leading to sustained improvements. This is a wonderful book and will be appreciated by many people suffering from bipolar disorder. I recommend it enthusiastically."
--Robert McMeilly, MBBS, an international teacher of Ericksonian approaches to psychotherapy and hypnosis.
"The Tao of Bipolar is a how-to guide to clearing your mind, easing your moods, and developing your talents. I'm pleased to have this powerful resource to offer to my patients. The Simpkins offer you the tools you need to gain a high level of awareness and control over your bipolar symptoms. Their easy explanations and practical meditation exercises will help you develop powerful, life-changing habits."
--Ashley Bavis Bush, LCSW, author of Shortcuts to Inner Peace and Transcending Loss
"A true self-help book. The authors expertly guide the reader through a description of bipolar disorder and teach, step-by-step, how to meditate to increase the ability to manage the mood swings that go with bipolar disorder. A great introduction for anyone considering treatment, and a thoughtful addition to talk and medication therapies."
--Tanya H. Hess, PhD, director of training at Coaching into Care, Philadelphia VA Medical Center
"A wonderfully well-written book integrating ancient philosophy of Tao and modern neuroscience for self-help with bipolar disorder."
--Kathryn and Ernest Rossi, authors of the video e-book Creating New Consciousness in Everyday Life
Neuroscience for Clinicians:
Evidence, Models, and Practice

Springer 464 p. 98 illus.
Softcover
ISBN 978-1-4614-4841-9
Also available as an e-book
2012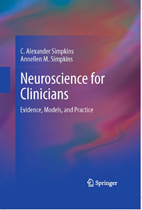 Very clear introduction to neuroscience for practicing psychologists
Helpful definitions of neuroterminiology
A broad range of topics are covered,
Based in the latest research findings
Clear applications for clinical practice
"This book is a terrific introduction to basic neuroscience , as a prelude to understanding the current excitement surrounding the neural basis of mind – body interactions. "
VS Ramachandran, Center for Brain and Cognition, UCSD and author of The Tell-tale Brain
Neuroscience for Clinicians introduces an elegant new lens not only for understanding the role of the brain in pathology, but also for using this knowledge in therapy, to help the mind by treating the brain. Offering conceptual models and empirical data as well as hands-on techniques and practical guidelines, it describes methods versatile enough to be used by therapists across theoretical orientations. Detailed discussion of neuroplasticity explores the brain's capacity for change and in-depth case studies of anxiety, substance abuse, cognitive problems, and mood disorders demonstrate the mind's ability to alter brain structures during the course of therapy. And the book is written at a comfort level that requires no previous neuroscience background. Featured in the coverage:
Learning from brain-damaged individuals.
How neurons think and learn.
Neuroplasticity and neurogenesis: moment-by-moment change.
Incorporating the brain into treatment.
Maximizing the social brain.
Shifting the nervous system in common disorders.
Clinicians interested in understanding the brain's interactions with the mind and its role in psychological problems will find Neuroscience for Clinicians stimulating and adaptable to their own approaches to therapy. The book can also enhance neuroscience and biological psychology classes in cognitive science, medical, and psychology departments.
Keywords » Brain development - Brain function - Neural networks - Neuroanatomy - Neurobiology - Neurogenesis - Neuroimaging technologies - Neuroplasticity - Neuroscience - brain structure - embodied cognition - evolutionary brain - mirror neurons
Related subjects » Cognitive Psychology - Neuropsychology - Neuroscience - Psychology
TABLE OF CONTENTS
The birth of a new science.-Unlocking the key to neuroscience terminology.- What is the Mind and Brain?.- Learning from brain damaged individuals.- Neuroimaging technologies.- Modeling the Brain.- Neurons and Neurotransmitters.- Brain structures.- Brain Pathways.- Neural Networks: How Neurons Think and Learn.- Evolution of the Brain over Ions of Time.- Brain Development through the Life Span.- Neuroplasticity and Neurogenesis: Changing Moment-by-Moment.- Principles for incorporating the Brain into Treatment.- Working with Attention.- Regulating Emotions.- Reconsolidating Memory.- Maximizing the Social Brain.- How Psychotherapy Changes the Brain.- Relieving Anxiety.- Finding a Better Balance for Depression and Bipolar Disorder.- Recovering from Addiction.
Reviews
Review from Richard Landis, PhD, Clinical Psychologist and Editor of the Milton H. Erickson Foundation Newsletter
C. Alexander Simpkins' and Annellen M. Simpkins' book Neuroscience for Clinicians is the book I have been waiting for. Milton Erickson admonished us to create unique models for each client. I found this a rather tall order. While Erickson gave perspectives and hypnotic techniques, he taught us to rely on our own observations and understandings to create specific interventions for each individual client. What I wanted was a book that helps us see our clients at multiple levels so we can create interventions from top-down and bottom-up. Neuroscience for Clinicians is such a book.

The book is divided into six parts with the first four parts laying the groundwork for the treatments. Parts one and two demystify the arcane world of neuroscience by reviewing it as a set of discoveries and explorations. The Simpkins make esoteric terms logical and easy to assimilate. It reads like a fascinating documentary. Standing on the shoulders of the first two parts, part three gives a clean overview of our current knowledge of how nerves work, individually and as networks. Part four introduces us to neuroplasticity and its relationship to change. Part five moves us into creating clinical applications. It shows us how understanding brain processes allows us to develop effective treatments. I especially like the six key principles provided in Chapter 14. Part six brings it all together. Here, the Simpkins show us how psychotherapy can change the brain, in the most frequently diagnoses disorders. This section includes examples of suggested exercises for therapeutically altering brain function in depression, anxiety, addictions, and bipolar disorders.

It is an amazingly easy read for a book on the applications of the neurosciences. The six parts are logical progressions that lead from understanding to intervention. Each chapter within each part is a natural extension of the previous chapter. Within each chapter, each step interconnects with the one that came before. The book flows effortlessly from one logical level to the next. It is artistry.

I recommend this book for those of us who identify ourselves as Scientific Humanists. (How is that for an apparent oxymoron?) We want to know why as well as how. It provides answers for both the beginning and experienced clinician given that it satisfies each need that the two levels seek. In Neuroscience for Clinicians, the beginning therapist can use its easy-to-learn overview of general brain functioning to gain confidence and meaning in the impact of his or her professional interventions. It allows the therapist to develop a greater understanding of the deeper function of therapeutic technique. For the more experienced therapist, Neuroscience for Clinicians provides a review of pertinent elements we can use to incorporate in our perspectives and create new techniques. I especially like how it provides handy pegs for me to hang my ideas on. And, on those days when my intuition is a bit sluggish, it provides a framework for me to systematically build my models. Among all the books on my shelves, Neuroscience for Clinicians is an exceptional book, and I highly recommend it.
Review from John Lentz, D. Min., Author of Trance Altering Epiphanies You Can Create and Compassionate Healing of Sex Addicts and Those Who Love Them
Wow! Imagine two of the best therapists in the world writing a book where they lovingly and intentionally used implied meanings to assist you to feel better, recognize more of your competency, and encourage you to be an even better clinician and person, as you learn cutting-edge neuroscience! You will be very delighted with what you will now understand.
In this 345-page book, the Simpkins have created a classic that doesn't just tell the history of neuroscience, help you to understand the brain, and how to use that knowledge for your work, but they have also given you a series of gifts. They have used their linguistic skills to evoke your creativity while indirectly supplying bits of clinical expertise based upon neuroscience in the volume proper, that you will be glad you know.
I love how the Simpkins made understandable some very complex material, and I especially enjoyed how their book inspired me to become a better person. On page 245, the information they offer was speaking on several levels. Relating a study about mirroring neurons with monkeys that seems to imply that monkeys understood intent, and how the Simpkins put it speaks to us on at least three levels. Recognizing the use of their craft and what they were saying, I felt inspired to become a better person.
The first part of the book set the stage for what was coming next, and, it was chock full of philosophy, biology, and the Simpkins's unique blend of nurturing information. I found myself thinking of clients, friends, and colleagues that I wanted to tell about what I was learning, and I smiled at the implied messages the Simpkins left almost like a series of gifts, for you to find.
However, the middle part of the book got even better. Not only were they doing more of the same, they ramped it up, and made the information even more relevant, were more obvious about the positive implied meanings they were offering you the reader. They began to also add in exercises that teach you experientially in overt ways, that you can easily repeat, as well as observations that you will find useful.
The last third got even more intense for clinicians as they were offering so many practical observations, and information that will inspire your creativity as well as give you tools for working better with your clients. I made notes, marked up the book and in general became inspired, had eureka moments, and felt all warm and cared about being a therapist. The Simpkins were intentional about causing you the reader to have those types of experiences. Yours will be uniquely your own but you will have them when you read the book.
When the Simpkins offer practical exercises from meditation or ways to prescribe it for particular issues, they are speaking from another area of their expertise where they have authored several books. They do not call attention to their genuine wisdom and knowledge of meditation they simply state what they know.
In summary, you have a wonderful treat awaiting you that has gifts liberally offered so that you will have a positive emotional experience and learn important information about neuroscience. I am recommending it to every clinician I know, and quoting the information they give to clients, therapists and myself, over and over.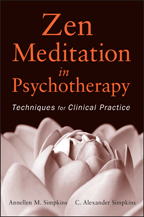 Zen Meditation in Psychotherapy: Techniques for Clinical Practice
John Wiley & Sons
January, 2012
Zen Meditation in Psychotherapy brings us face-to-face with who we are in our most fundamental nature. The Simpkins evoke a clear consciousness both directly and indirectly, using Zen stories, moving case examples, and clear exercises to follow. They give us persuasive scientific evidence that shows how meditation works well for therapy and changes the brain for the better. With a broad array of both conscious and unconscious forms of meditation, you will find wisdom and enlightenment in your life and for your clients.
This book teaches meditation and mindfulness and shows how you can use it as a therapeutic tool. By promoting awareness, meditation allows people to do what they need and express themselves sincerely beyond psychological problems. Included are applications to anger, depression, anxiety, trauma, addiction, weight management, and relationships, plus a general protocol for meditative therapy. There is also a section on meditation methods for therapists to relieve stress and burnout and develop acumen.
"Finally, a book that not only gives us the latest scientific evidence about the benefits of meditation for clinician and clients, but details specific and practical ways to bring the meditation process to bear on the common problems brought to therapy. The Simpkins have written an accessible book on applying Zen methods of focus and insight in therapy, sprinkled with stories to engage, illuminate, and inspire." --Bill O'Hanlon, featured guest on Oprah and author of Do One Thing Different.
---
Book/CD Combinations


Meditation from Thought to Action with Audio CD
Radiant Dolphin Press
2007

Self-Hypnosis for Women with Audio CD
Radiant Dolphin Press
2004
---
Simpkins Classics

The Simple Series on Eastern Philosophy
Simple Taoism, Simple Buddhism, Simple Zen, Simple Tibetan Buddhism
Easy to read guides with history, principles, and applications of each of these beautiful philosophies
Tuttle Publishing
1999-2001 (Click on each book cover)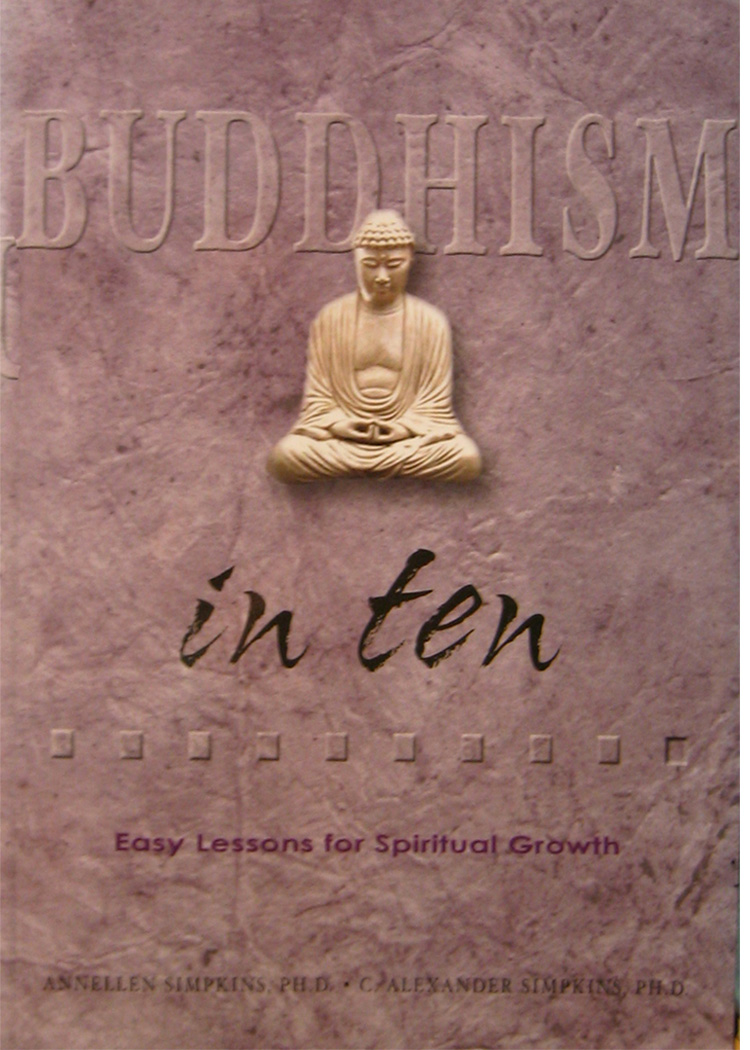 Buddhism in Ten
10 Easy Lessons Series
Tuttle Publishing
2003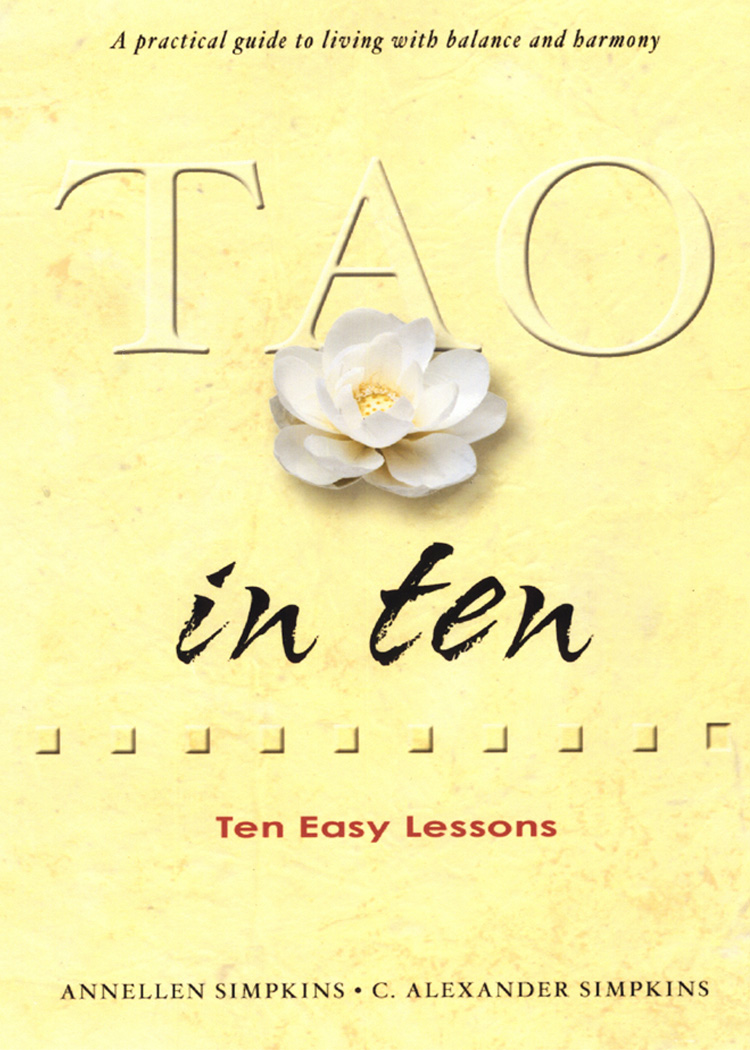 Tao in Ten
10 Easy Lessons Series
Tuttle Publishing
2002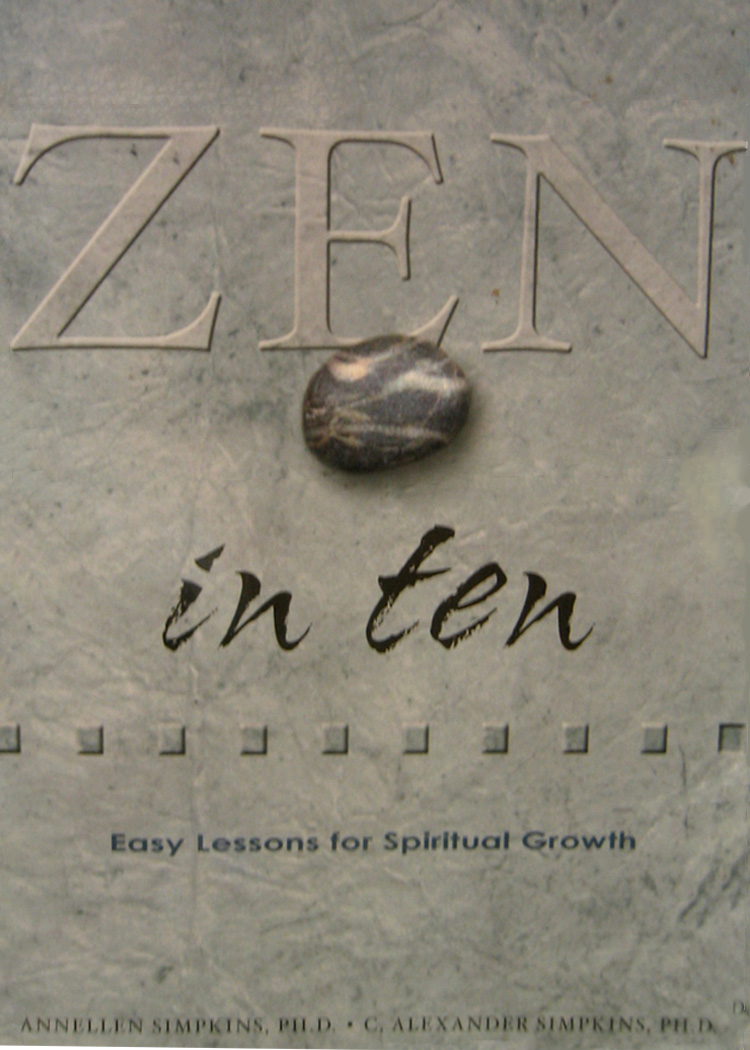 Zen in Ten
10 Easy Lessons Series
Tuttle Publishing
2003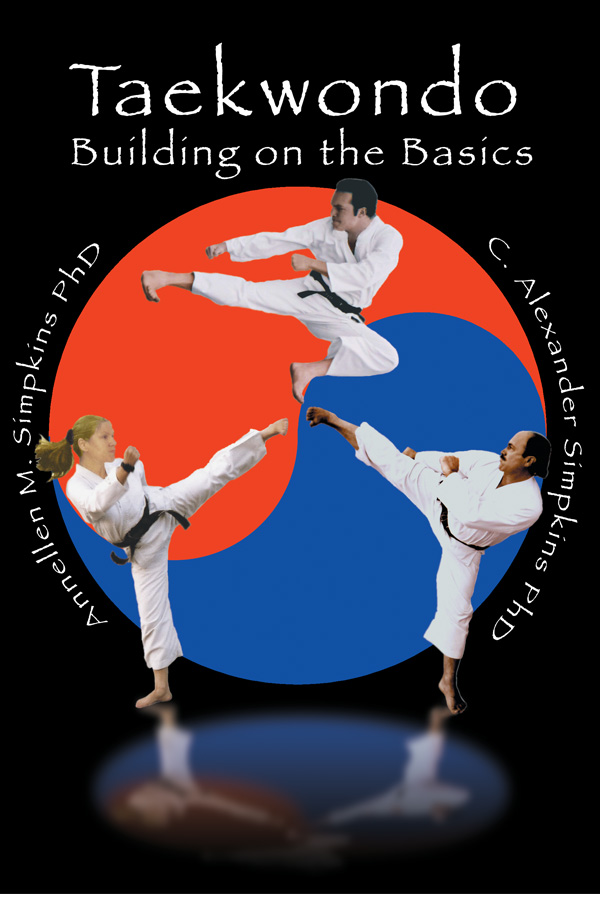 Taekwondo: Building on the Basics
Radiant Dolphin Press
2004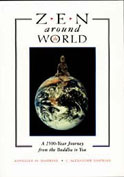 Zen Around the World: A 2500 Year Journey from the Buddha to You
Tuttle Publishing
1997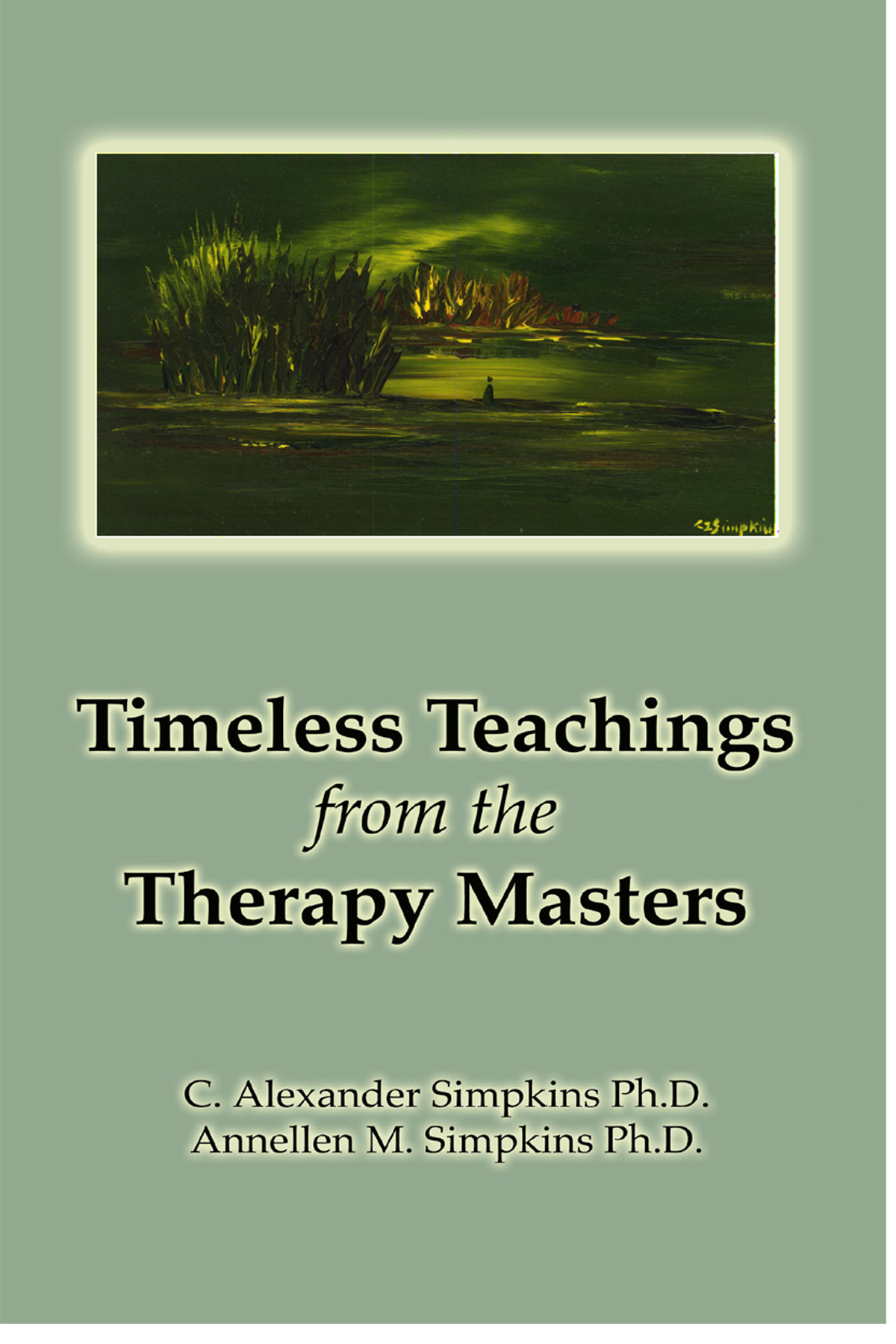 Timeless Teachings from the Therapy Masters
Includes Jerome D. Frank MD PhD
John C. Whitehorn MD
Arthur Combs PhD
Carl Rogers PhD
Milton H. Erickson MD
G. Wilson Shaffer PhD
Radiant Dolphin Presss 2001
For more Simpkins books go to: